Everyone wants a home in which they feel completely at ease. All things have their fixed place, it is clean and it smells pleasant when you enter the living space. The picture that presents itself to the viewer inside is confirmed by a neat property with a planted and tidy garden.
That is wishful thinking. The reality is usually different. Due to the stress and hectic pace of everyday life, we sometimes lack the time and desire to keep the house and the property clean. Of course, this is an absolute contradiction to what we wish for.
What can we do? There are quite a few things. You can find out exactly what these are in this article. There is a lot you can do yourself. But the advantages of a cleaning service and its tasks are also explained here.
What does a cleaning service for private households?
The tasks of a cleaning service are already included in the name: The cleaning service takes care of order and cleanliness within your home. But not only in the living room, but also on the balcony, on the terrace and in the conservatory. An all-round service to make you feel good!
A few of the tasks that the cleaning service takes on should quickly come to mind. But surely there are issues here that they don't even think about. Or would you have thought that a cleaning service takes care of removing pigeon droppings?
The cleaning service for private households offers even more services that cover house and property. Many years of experience, the right tools and a thorough, hygienic cleaning job are any advantages of the cleaning service.
Which tasks contains to a cleaning service?
The tasks that the cleaning service takes on for private households are varied and are divided into different areas:
Cleaning work in the house - also Messie households and de-cluttering
Cleaning of objects - upholstery, carpets etx.
Cleaning work on balcony, terrace, conservatory and garden
In addition to the tasks for private households, the cleaning company also offers many valuable and important services. These include hygienic cleaning in catering establishments that can withstand any inspection, window cleaning, construction cleaning and cleaning before, for or after a move.
The detailed tasks in and around the house will be presented in the next points. You can be curious about everything that is involved. (Siehe Blog:"Haushaltsreinigung: 11 ultimative Tipps zur Reinigung im Privathaushalt")
The cleaning service in the house
The cleaning service for private households offers, as experienced, some services in and around the house. The diverse range of services, the friendly and discreet handling, make this service provider a worthwhile investment.
Cleaning services in the house include these various services:
cleaning of flats – also Messie
window cleaning
carpet and upholstery cleaning
final cleaning – moving cleaning
cleaning water damage
remove nicotine smell
clearing-out – messie household and other
Flat cleaning depends on the amount of work involved. This is of course much higher in a messy flat, which is why these two types of cleaning could also be seen separately from each other.
Flat cleaning includes basic cleaning and can be calculated by optional services in a total offer. Optional additional services are:
Thorough cleaning of fittings and bathtubs - limescale removal and tile and grout cleaning
Thorough cleaning of light switches and sockets as well as staircases
Kitchen: Oven cleaning - grease and dirt
Window cleaning includes 16 window sashes, which are thoroughly cleaned. Not only the glass surfaces are cleaned, of course also the window frames and window sills, inside and outside..
A carpet provides a pleasant surface for the feet in the house. It reflects cosiness and a feeling of well-being. But the textile quickly shows signs of wear, small mishaps, dirt and stains.
The disadvantage is that you can't even put a carpet in the washing machine. Moreover, you usually make things worse if you try to get rid of stains and dirt with household remedies.
Especially when cleaning carpets and upholstery, a professional should be consulted. This way, your carpet, its colours and cleanliness will be preserved.
The final cleaning is an essential point when you are about to change your living space. In this respect, the previous landlord wants the flat to be left tidy.
But even those who move into a new domicile can create a clean area through movingcleaning. The cleaning service for private households knows that things have to happen quickly. So requests at short notice are also possible. In addition, small touch-ups are also carried out on request.
Water damage can occur quickly. A burst water pipe, a damaged pipe, to name just a few reasons. It is important to repair the damage quickly after water damage so that mould does not form in the building fabric and the quality of living is negatively affected in the long term.
The cleaning service quickly takes care of the damage and ensures that the home is soon dry, cosy and, above all, habitable again.
The nicotine odour removal is about getting the home fresh again. The nicotine settles in windows, textiles such as carpets and upholstery and remains there.
Decluttering is suitable for anyone who wants to rid themselves of old burdens. It is irrelevant whether it is a messie household, a household clearance or a basement storage.
The cleaning service will restore order and help you get a clear view so that you can breathe again.
Because of cleaning with the so-called four-colour system, a different cloth is used for each area. The colour coding helps to structure the work and ensures hygienic cleanliness.
The cleaning service around the house
The cleaning service for private households offers a wide range of services. True to the motto There's always a lot to do!, there are also cleaning tasks outside the home.
Outdoor services include these tasks:
Pigeon droppings removal
Winter garden, terrace and balcony cleaning
Pigeon droppings in particular can not only be very stubborn, but also dangerous, as they contain all kinds of germs and pathogens. In addition, pigeon droppings damage furniture and substances.
The cleaning service takes care of the complete removal of pigeon droppings. With special cleaning utensils and the knowledge of this pollution, the professional gets surfaces and areas completely clean again.
Cleaning a conservatory is important if you want to enjoy it to the full. This includes cleaning the glass surfaces, the roof and the awning.
Das Team am Arbeitsplatz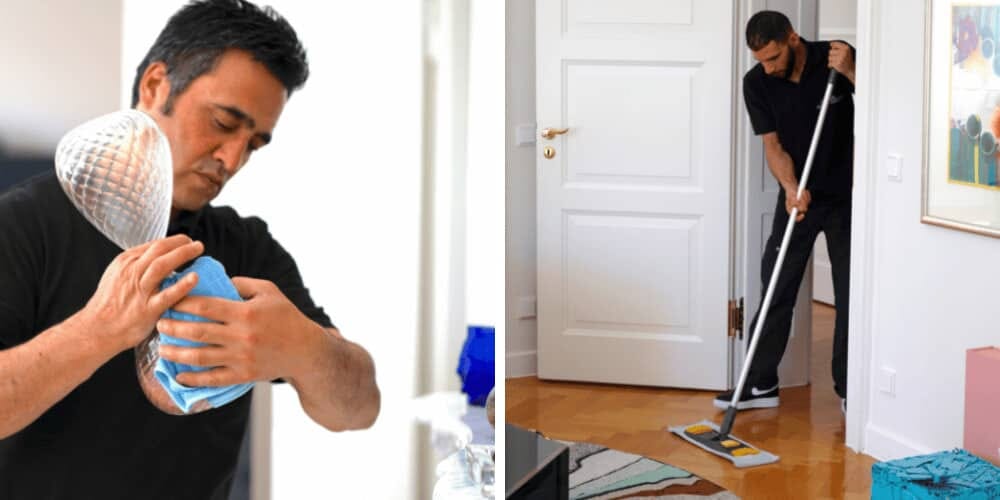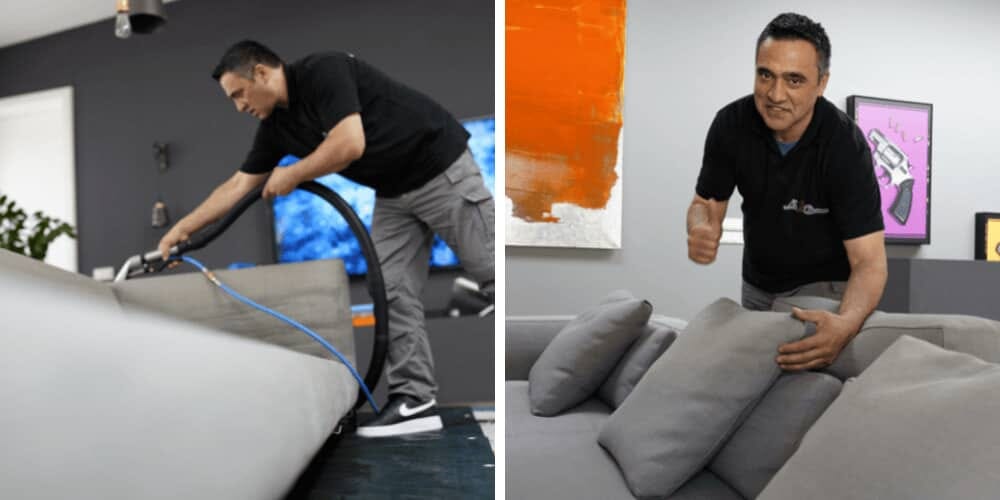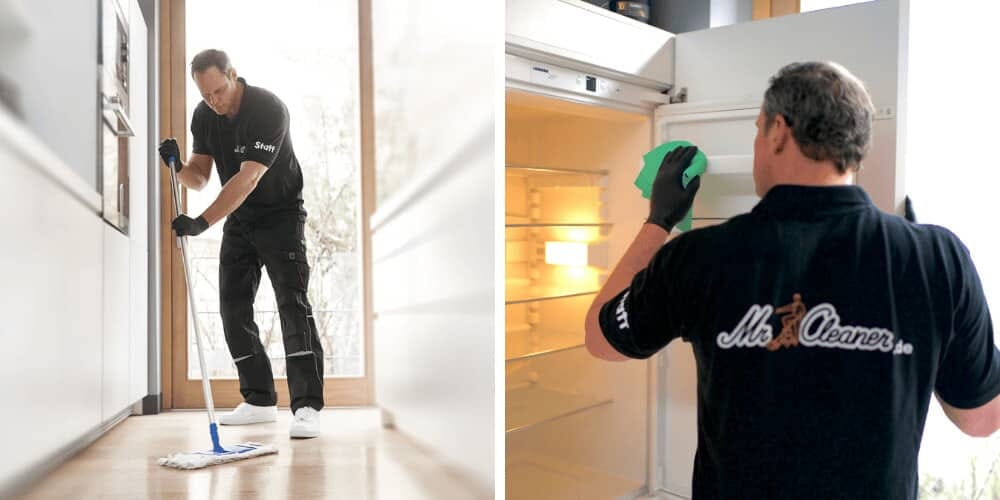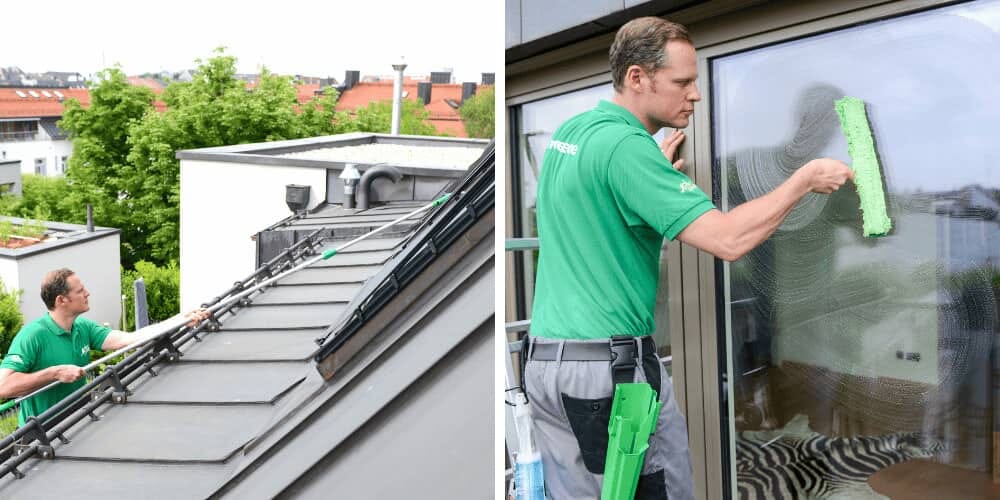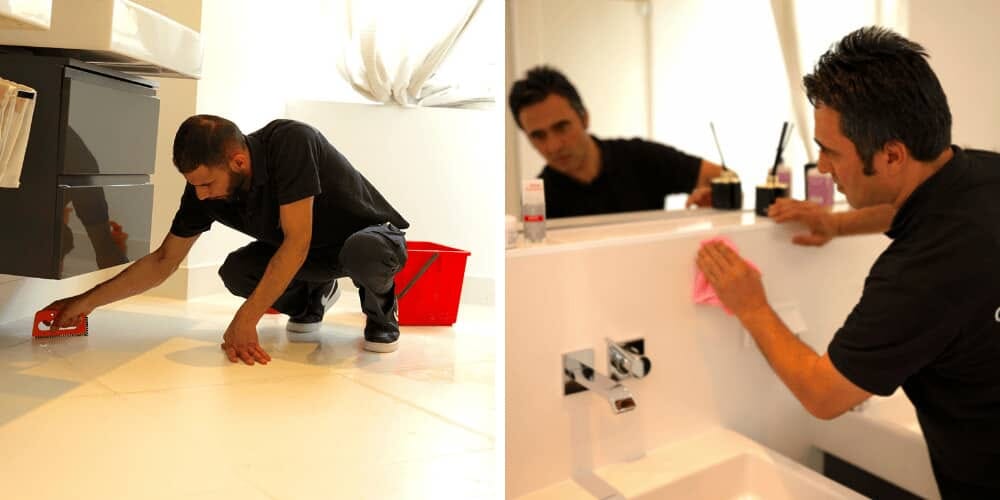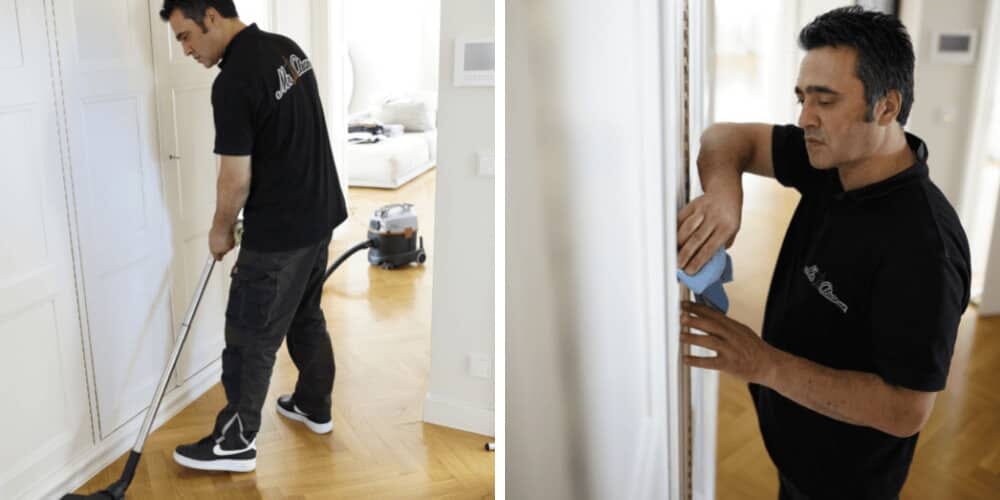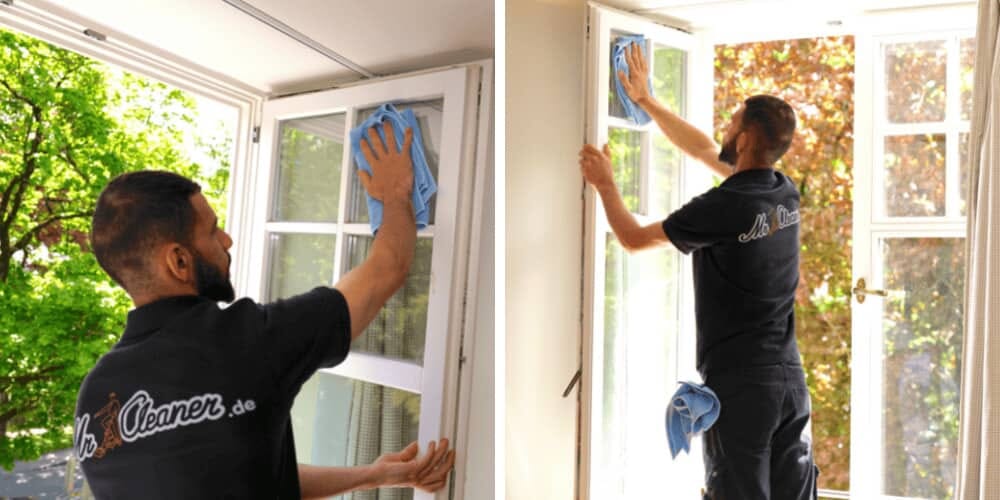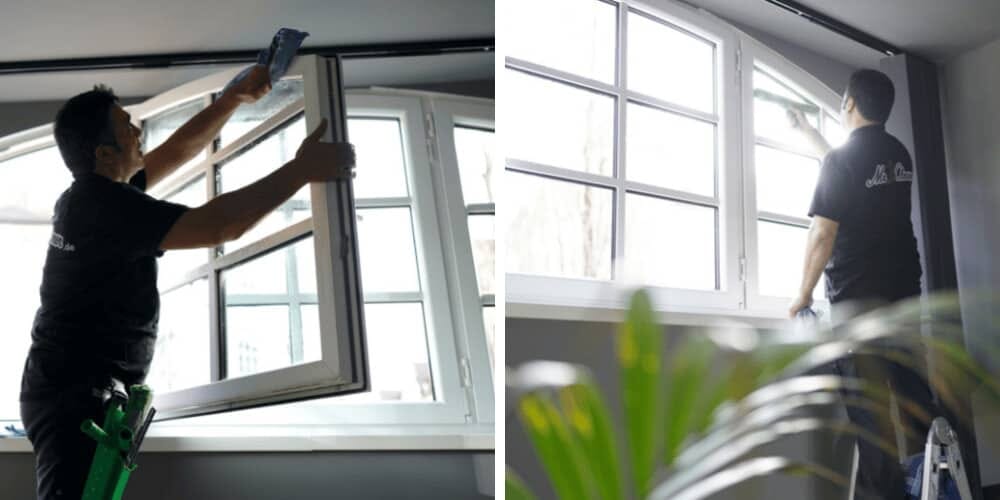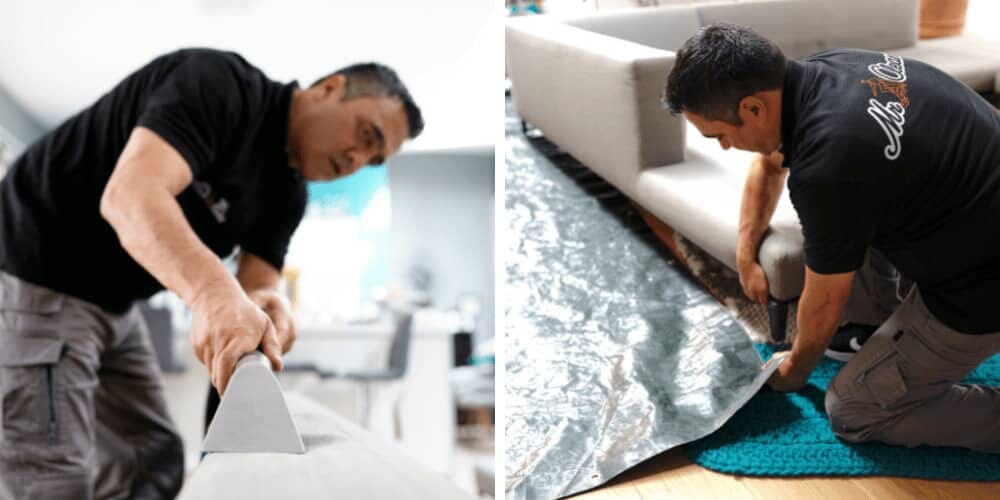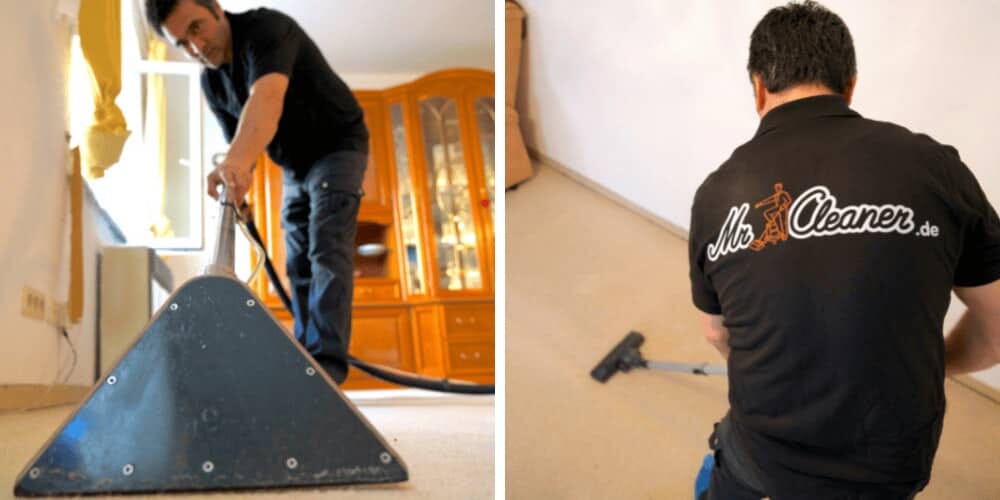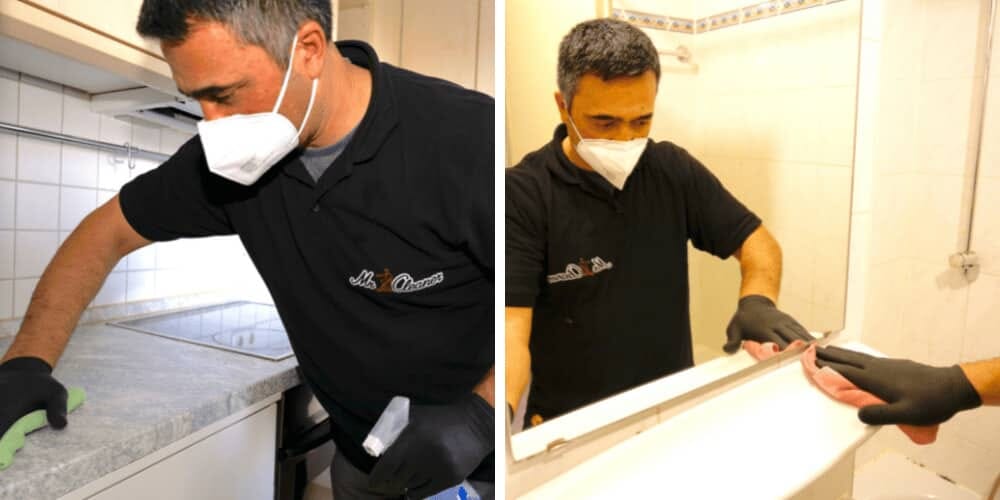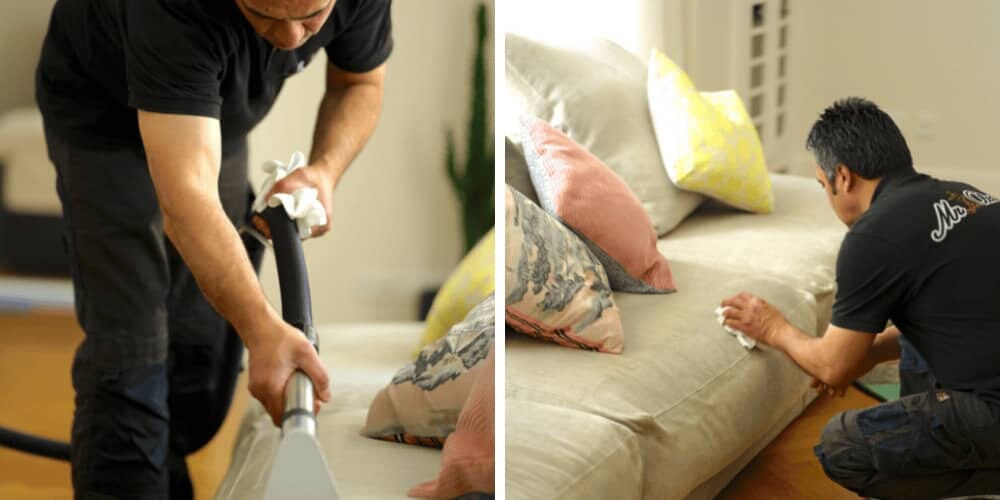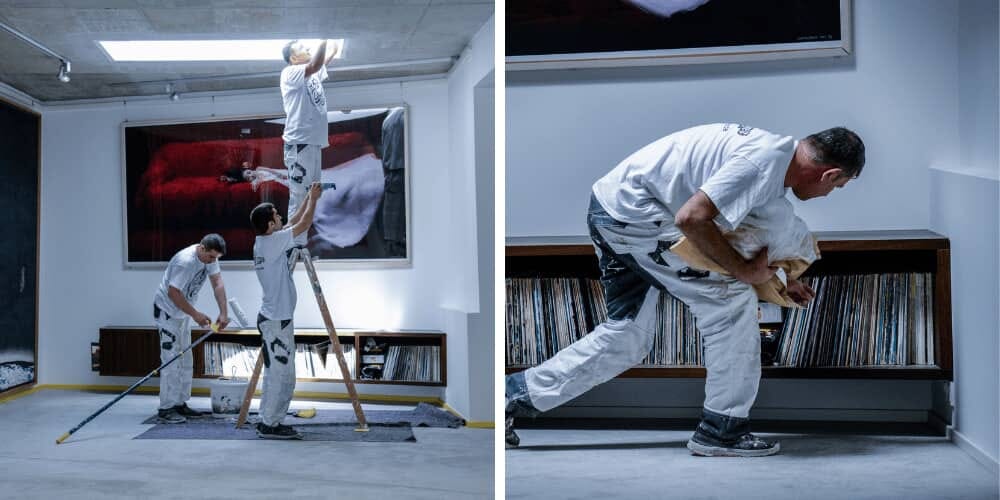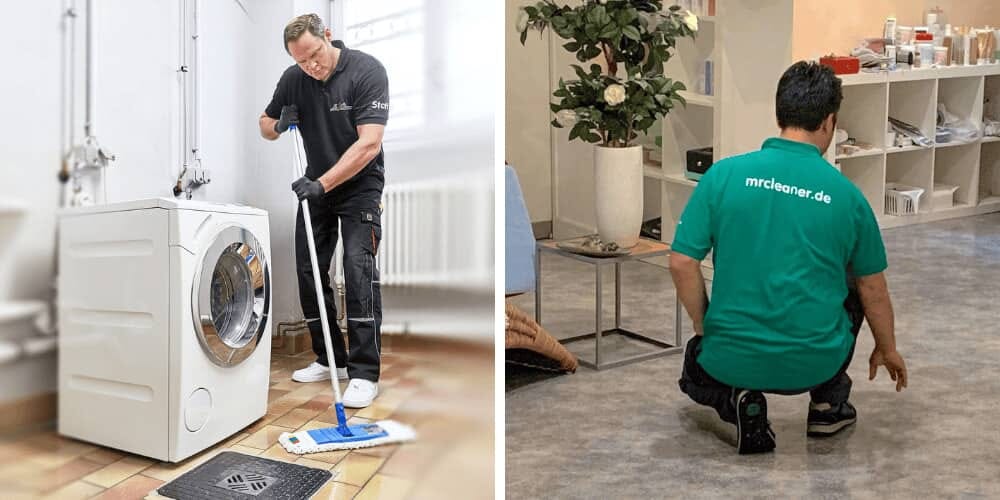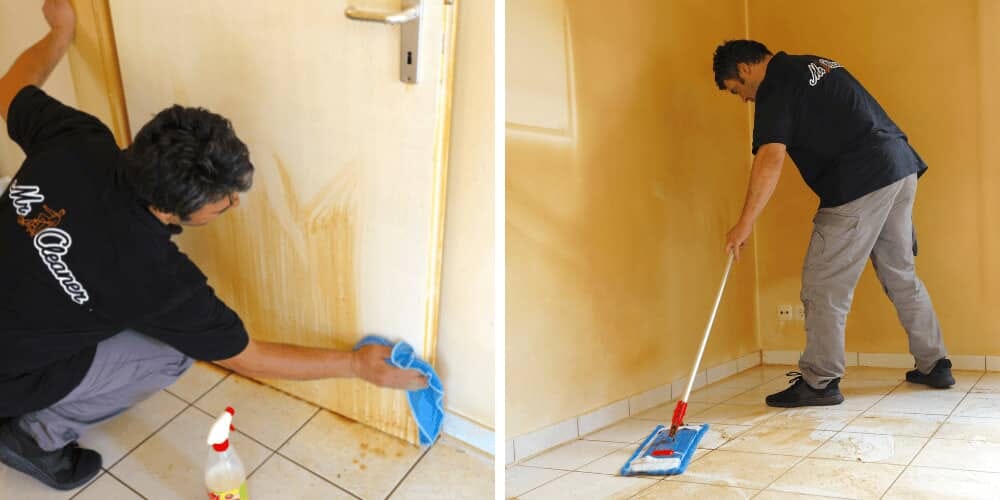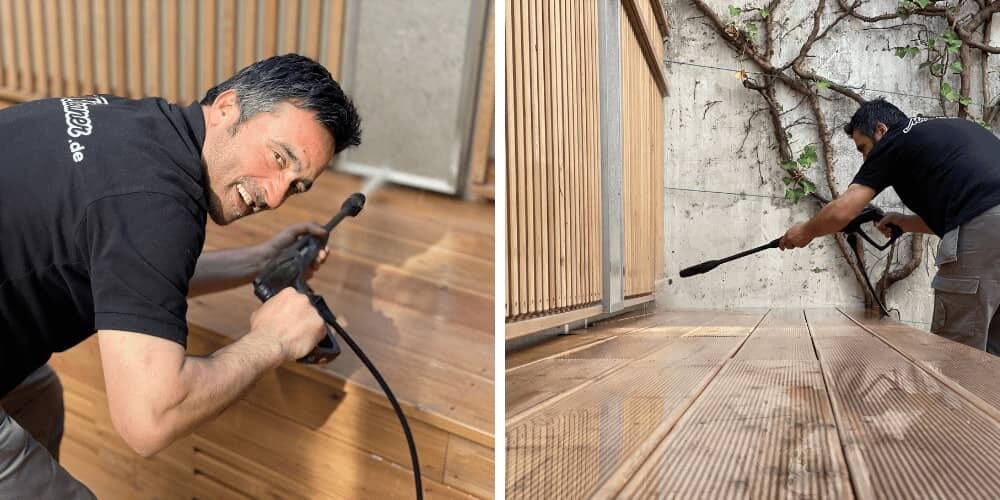 What are the differences to cleaning in a company?
The cleaning service not only offers cleaning for private households, but also for offices, companies and restaurants. Here, cleanliness and hygiene are also essential.
Especially the special cleaning work is important for commercial customers. These includes above all:
gastronomic cleaning
construction cleaning
cleaning after fire
cleaning after water damage
The catering facilities are inspected regularly. Here, cleanliness and hygiene are particularly important. If there are complaints from the respective authorities, the business has the opportunity to remedy the deficiency. If it fails to do so, the establishment may be closed down.
The cleaning service works according to the HACCP concept. This cleaning is guaranteed to withstand any inspection. (Siehe Blog: "Gastronomiereinigung: 12 Fakten Leitfaden bei amtl. Hygienekontrollen")
Especially when building and renovating, a lot of dirt accumulates. The dust - by the way, only 3 % of the dust is directly visible and the remaining 97 % slowly settles from the air into even the smallest crevice - is completely removed so that you can feel at home again.
The cleaning work after a fire or water damage is complex. Here one has to deal with adversities, which are as follows:
moisture due to water damage or extinguishing water
risk of mould formation
softening of substances
odour impairments
The cleaning service offers many years of experience, the knowledge of how to remove the damage and restore the premises, as well as the necessary utensils.
Enquiries are handled discreetly and processed as quickly as possible. Appointments can also be made at short notice.
Why someone needs a cleaning service for private households?
The reasons for using a cleaning service for private households are as varied as the services and cleaning options offered.
The most common reasons include:
no time, no desire to clean
unable to clean - surgery, illness, disability
stress and hectic daily life
lost overview - possibly messie, mental illnesses
desire for thorough cleaning – Structure
Most of the time, our everyday life is characterised by deadline pressure and stress. We long for peace and relaxation in the evening. It's clear that cleaning the house is no longer on our minds here. But even those who are not able to take care of the household after an operation or due to a physical impairment like to resort to cleaning services here.
Sometimes we also lack an overview. Chaos has spread to all corners of the house and you no longer feel in control of the situation. You lose the overview and with it possibly also the courage to get the pollution under control.
Many people often find it difficult to accept help. Friends and relatives may offer, but those affected refuse. The cleaning service does not ask and handles all requests discreetly. This is a great advantage, especially with regard to messy households.
To finally answer the question of who needs a private household cleaning service, we can say that everyone needs and wants one at some point. Be it reasons because you can't, can't manage or don't want to do it yourself at the moment. It does not matter!
It is important to know that there is someone there who has the necessary know-how, brings the right tools and takes over the cleaning work. You can do what you deserve during this time: relax and unwind, because you don't have to be on site during the cleaning.