"My husband says that a bit of household chores will take care of themselves…"
Who does not know this line of text from a song by Johanna von Koczian from 1977. At that time an absolute street sweeper, he still clearly shows today how the opinion on housework in general shapes the world view.
Most are of the opinion that the household takes care of itself, that housework is not expensive and that you can definitely do it on the side.
Professional household cleaning - the reasons
That's why it looks the same in many apartments and houses. Superficial cleaning is done, the corners are left out and thorough cleaning such as windows, carpets, upholstered furniture and similar things is neglected.
However, this means that the furniture wears out quickly. That their value is falling and that the feeling of living and well-being is also not at the highest level.
For this reason, it is always advisable to use a professional household cleaning service. This does not have to be the case all the time. Letting a professional do the brooms, wipers and vacuum cleaners at regular intervals is not only a relief, but also a great deal of added value.
The professional sees things that you cannot see yourself. It cleans differently than you do in everyday use and it is able to create free time for the user by taking over the household cleaning. Because while the apartment or household is being professionally cleaned, the client can focus on other things. He can use the free time for himself and thus also ensure that a special sense of well-being arises.
But there are other reasons why professional household cleaning is recommended. Professional household cleaning is highly recommended, especially for older people or people who have a limited range of motion.
Also for all those who work a lot, are rarely at home due to other commitments or who travel a lot and have someone who looks after things from time to time thanks to professional household cleaning. When you come home after a long journey, you want it clean and tidy. If a professional cleaning has been carried out beforehand, this clean arrival at home is always a given.
In the end, however, it is also possible to use professional household cleaning if you simply don't feel like it, don't have the time and don't have the skills for household cleaning. There's no shame if you don't like cleaning. Everyone has different preferences and likes to do different things. That's what professional household cleaning is for. In this case, you can hand over the tiresome work to someone who has made it his profession, who enjoys doing it and, above all, does it thoroughly and correctly.
Why is professional cleaning recommended in the home?
The question of why is answered relatively quickly. Only what is professionally cleaned has a lasting effect. If you don't like to clean yourself, if you don't have the time or if you simply can't do it, no matter how hard you try, you won't be able to produce the quality of cleaning that a professional household cleaner brings with it.
This not only applies to classic household cleaning, but also to window cleaning, upholstery cleaning and carpet cleaning. If the windows are not cleaned thoroughly on a regular basis, they become dirty. The panes are attacked by the dirt, the seals in the window frames are attacked and the window frames themselves can also be damaged. The window no longer closes properly and in the end it can even happen that the windows have to be replaced. Damage that nobody likes and that nobody wants to pay for.
A thorough upholstery cleaning is also necessary again and again. On the one hand, this removes mites and other small harmful animals on and in the upholstery. The same applies to animal hair, scales, lint, stains, abrasion from jeans and similar things. Dust and crumbs are also always deposited on upholstered furniture. It's not enough to go over it with the lint roller or hold the vacuum cleaner over it. Thorough and efficient cleaning is required here to create a great effect.
If you have your upholstered furniture cleaned professionally on a regular basis, it will retain its value. You will see a clear difference between your upholstered furniture before cleaning and after cleaning. You will also smell the difference. Household odours, the smell of cigarettes or sweat linger in the upholstered furniture. These odors can be removed with a professional cleaning.
As with the upholstery, carpet cleaning is also necessary again and again. Not every week, but at regular intervals. We recommend professional carpet cleaning twice a year. If you have pets, it is even advisable to have the carpet professionally cleaned at even shorter intervals.
Here, too, the aim is to remove stains, hair, dandruff, abrasion and the like. Your carpet will shine with a completely new shine after cleaning. Without being damaged by cleaning and without having to remove the carpet from your home. Because we clean at your place if you wish. (Siehe Blog: "Bereiche, die beim Putzen oft (und gerne) übersehen werden")
What are the benefits of professional cleaning?
Professional cleaning of your home, windows, upholstery and carpets has many advantages. On the one hand, you put this important work in the hands of experts. A professional is someone who deals with cleaning floors, carpets, curtains, windows, upholstery and furniture on a daily basis. He knows exactly which floor covering, which accessory, which piece of furniture, which door frame and which window needs to be cleaned. Which cleaners are necessary, which tools have to be used and how cleaning can be done quickly and, above all, thoroughly.
Additional benefits of hiring a professional include:
You have a flexible choice of dates
You can get advice without obligation
the professional cleaning is always carried out by experienced employees
You get excellent value for money
all offers for cleaning activities are presented transparently
You can discuss in advance which services you would like to use and when the cleaning should take place
You then conveniently pay for the cleaning by invoice and do not have to pay in advance
Are there differences in household cleaning, window cleaning, upholstery cleaning and carpet cleaning?
With household cleaning, the assumption is that your household will be cleaned. Floors, the bathroom, the kitchen and things like that. Window cleaning refers to the classic cleaning of windows. This also includes the window frames and the window sills or window sills.
During upholstery cleaning, all upholstered furniture can be cleaned on request. Sofas, armchairs, stools, but also upholstered beds are included in this service package. You decide what you want to use it for.
Carpet cleaning is all about cleaning carpeted floors. It doesn't matter whether it's carpeting, a good Persian rug or a high-pile rug. We discuss in advance which cleaning work should be carried out, which carpets are available and what needs to be considered.
Is it worth combining all cleaning jobs?
It's a good idea to do a thorough cleaning every once in a while. This not only applies to the apartment or house, but also to things like windows, floors, carpets or upholstered furniture.
If you want a thorough clean, it pays to connect everything. This does not necessarily mean that every carpet is cleaned. It just means that you can also have a carpet cleaned with the household cleaning service or your upholstery or your windows.
If you request cleaning from us, we will discuss with you what should be cleaned and to what extent. We will then see together how we can combine everything, find a suitable date and, above all, a suitable time slot. Depending on the effort involved, one or more experts will take care of your premises, your upholstered furniture, windows and carpets.
However, it is always possible for you to have the cleaning work carried out individually. Maybe it's too much hustle and bustle for you if everything is done at once. Then it is of course not a problem that the windows are cleaned on a different day than the bathroom, for example. We focus entirely on your needs and wishes and adapt our services accordingly.
Our note: It is not absolutely necessary for you to be present at a household cleaning service. If the hustle and bustle is too big for you, you are welcome to leave the premises and leave the field to us. We clean thoroughly, conscientiously and reliably. At the end of the cleaning activities, we hand over the apartment or house to you in perfect condition. A checklist is used to check whether all work has been carried out to your satisfaction and to the full extent. So you can have a good time during the cleaning work and don't have to be present in the middle of the hustle and bustle.
What must be considered when cleaning?
There are a few things that need to be considered when doing a professional cleaning. The experts also need your help here.
A good example of this is carpet cleaning. You can't immediately see the quality of every carpet. It is certainly possible for our experts to recognize whether it is a high-quality carpet or a simple product.
It is more important that special cleaning agents have to be used for special materials. And here it is good if you assist our experts and, if necessary, have information about your carpet covering. In this way it is possible to coordinate the cleaning work accordingly and thus ensure that it is actually thorough in the end, that the right cleaning agent is used and that you are completely satisfied with the result.
When cleaning windows, however, it is important to provide information on the size of the window. The position of the windows is also important to us in the planning. Sloping roof windows that are set very high up require different equipment than regular room windows, which can be reached without tools. Windows that are separated by sash bars are also cleaned differently than large glass surfaces.
If you have special window frames, it is also important for us to know this in advance so that we can adjust our work and our planning for the work accordingly. Together with you we will find the right workflow so that everything fits together optimally.
Das Team am Arbeitsplatz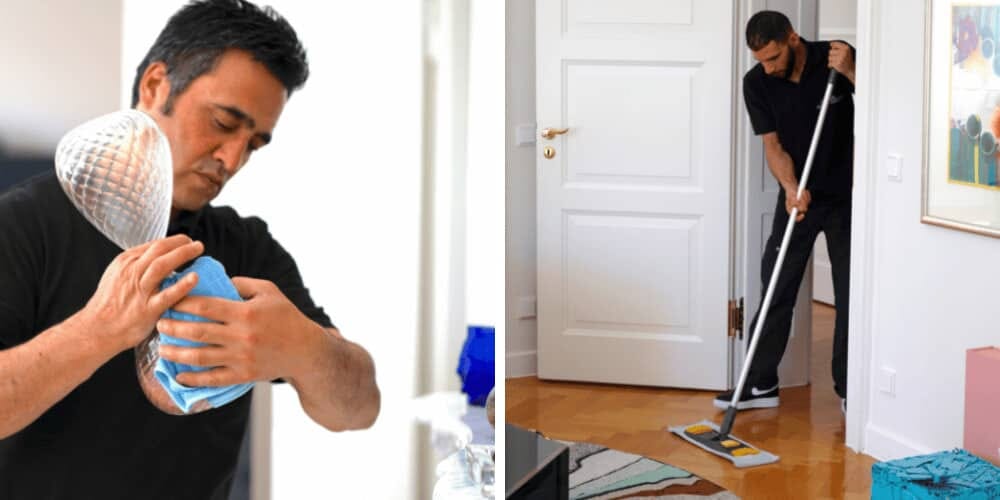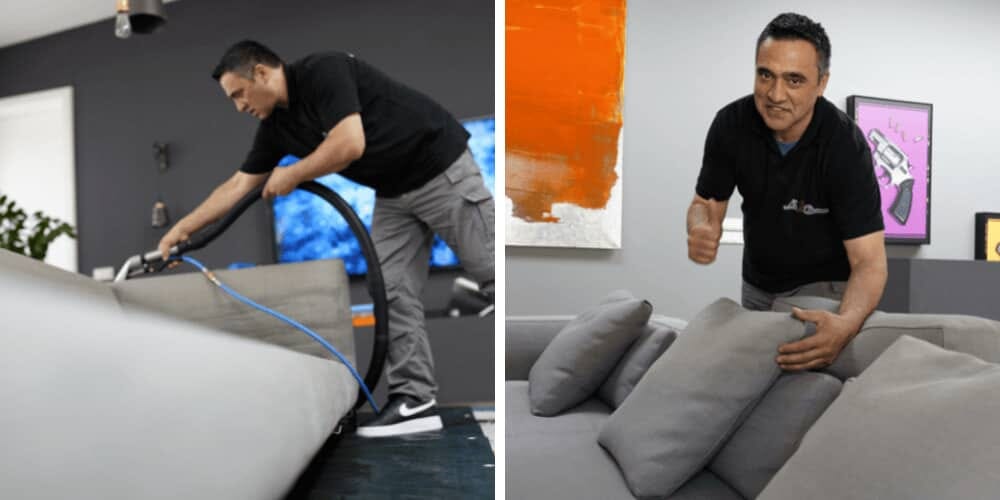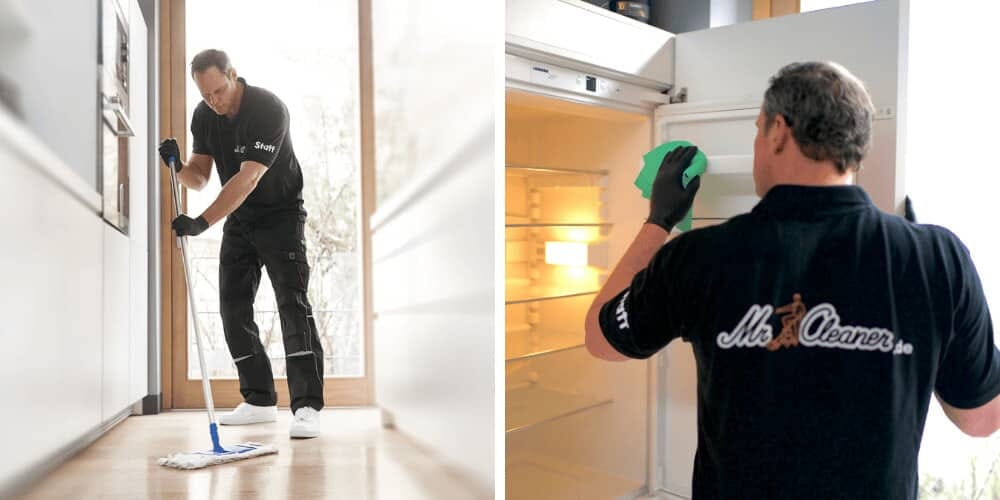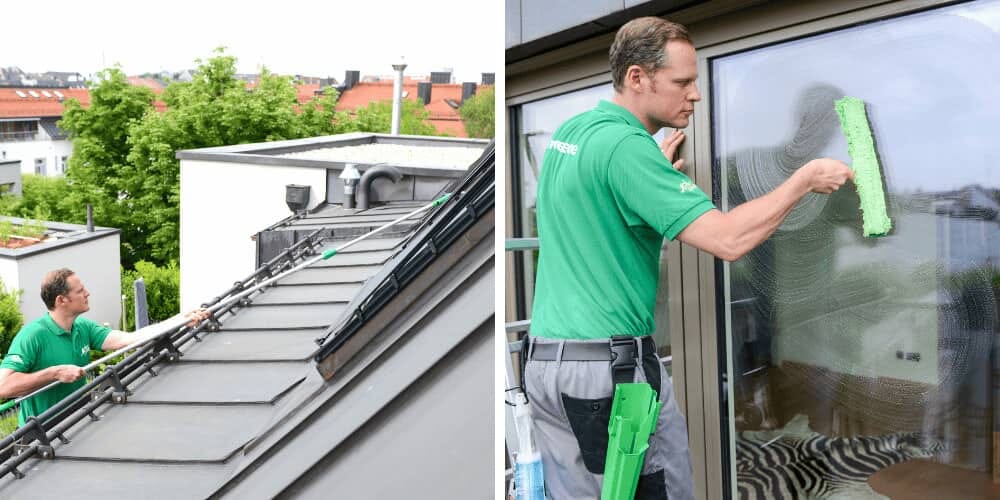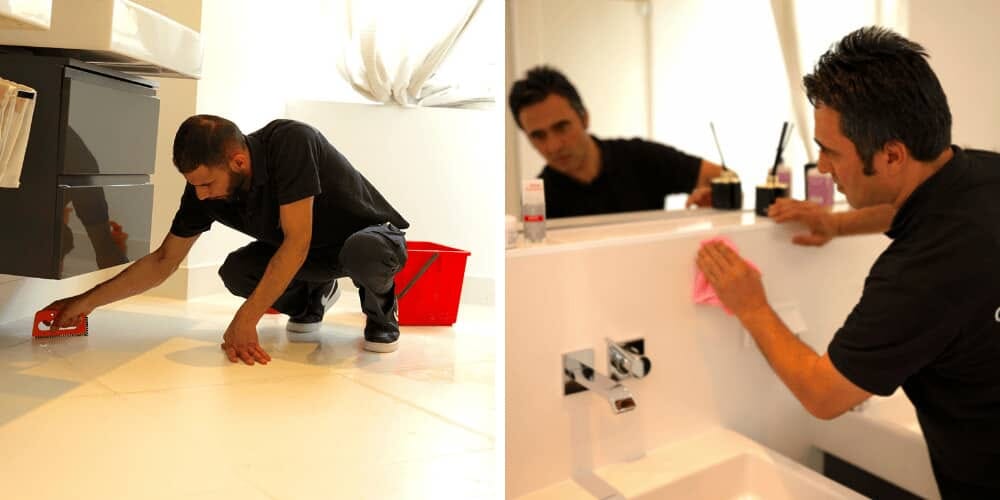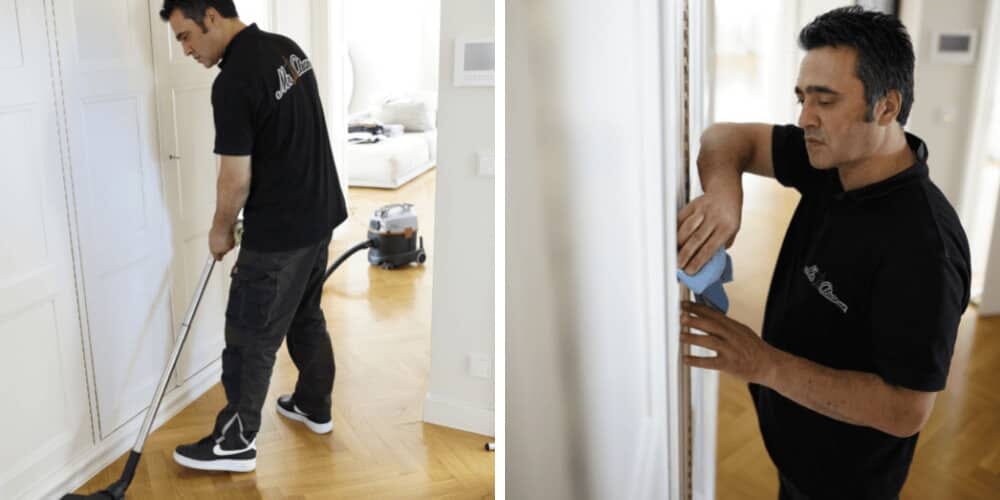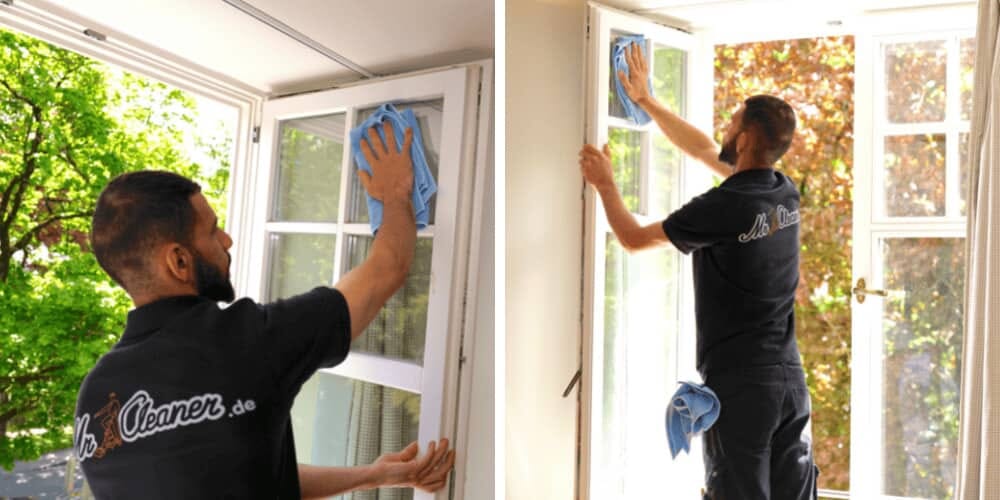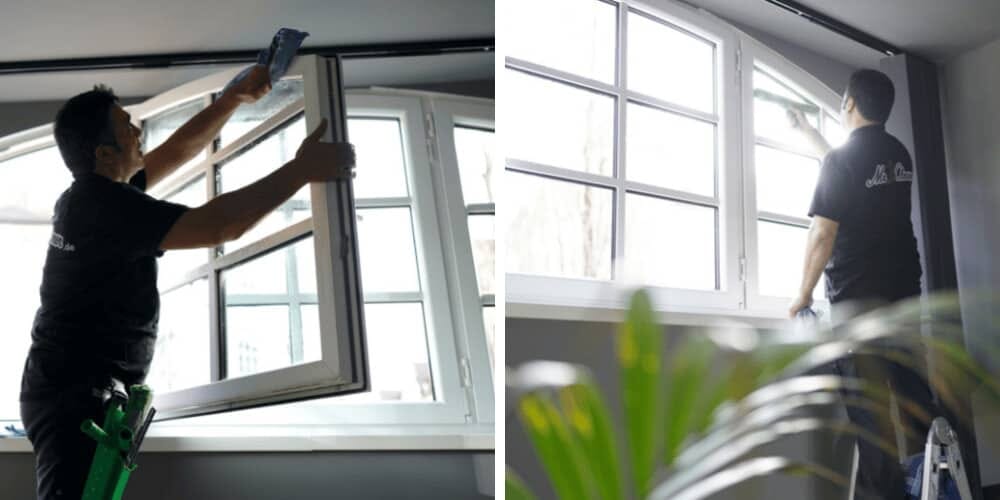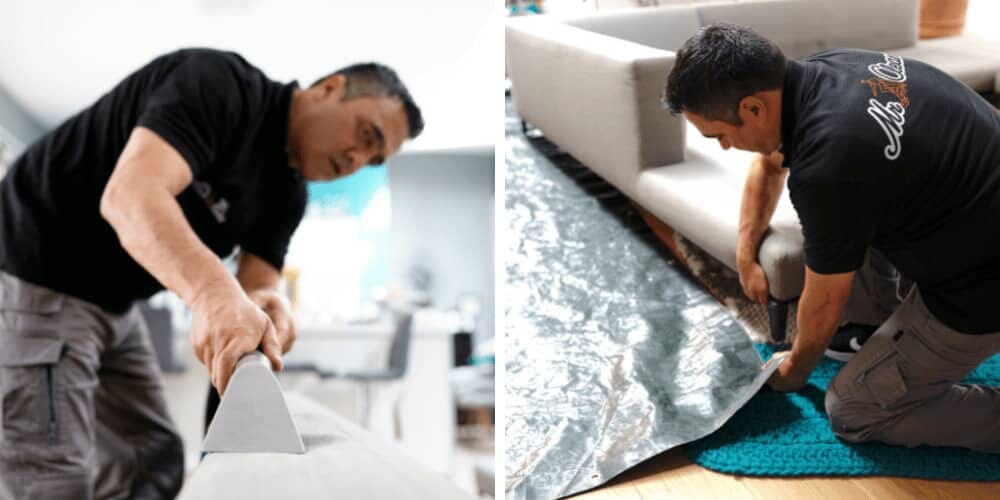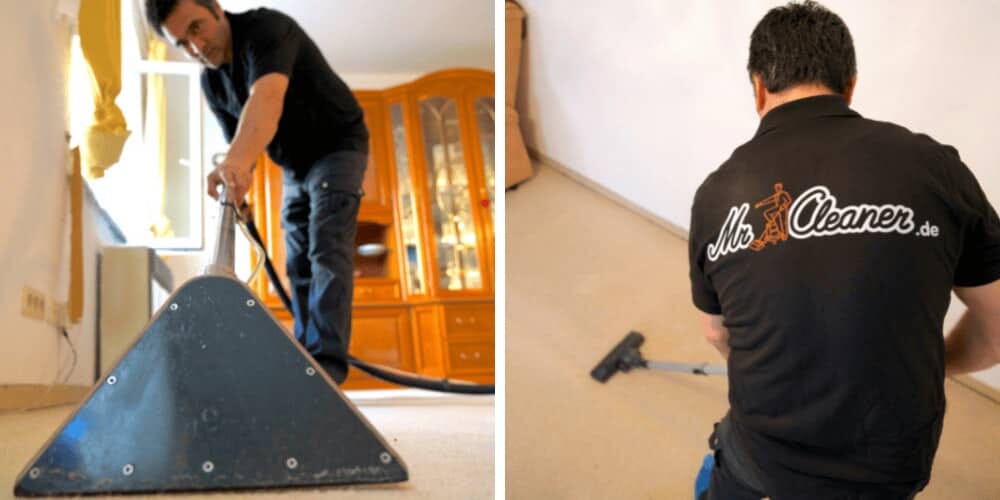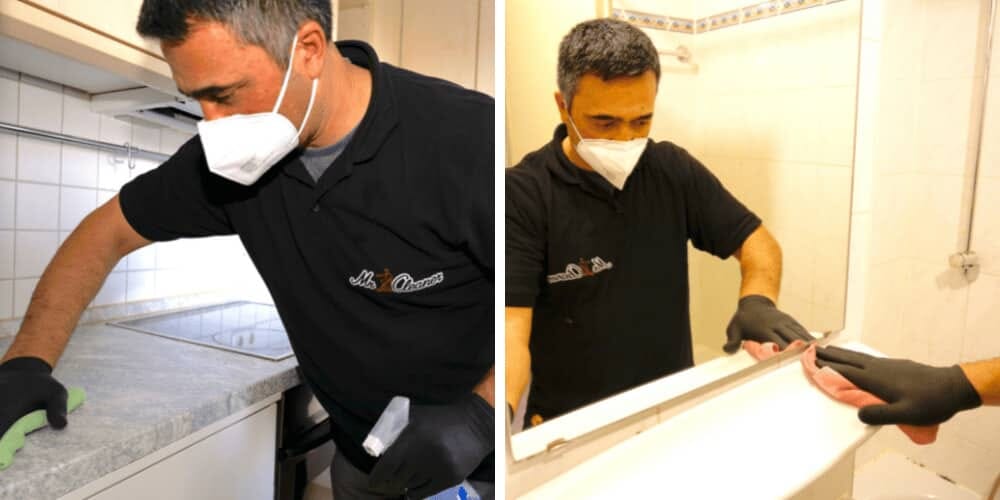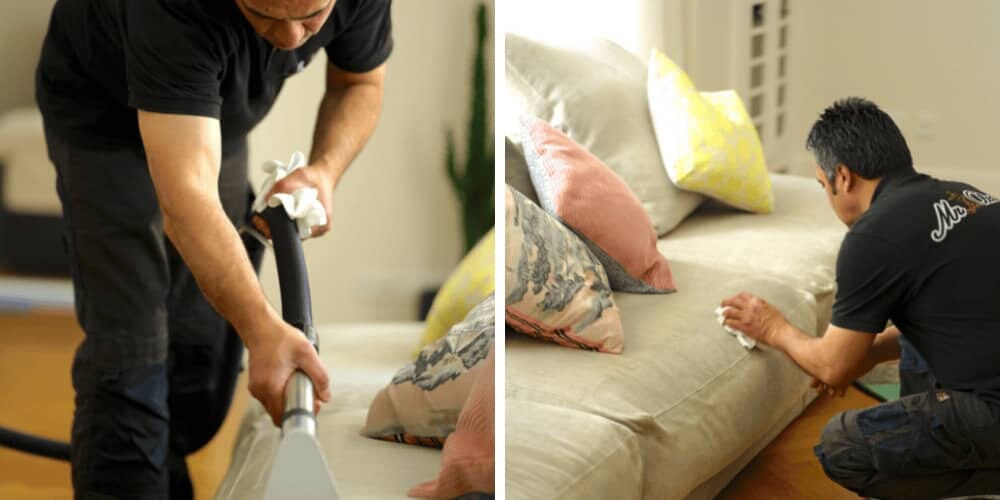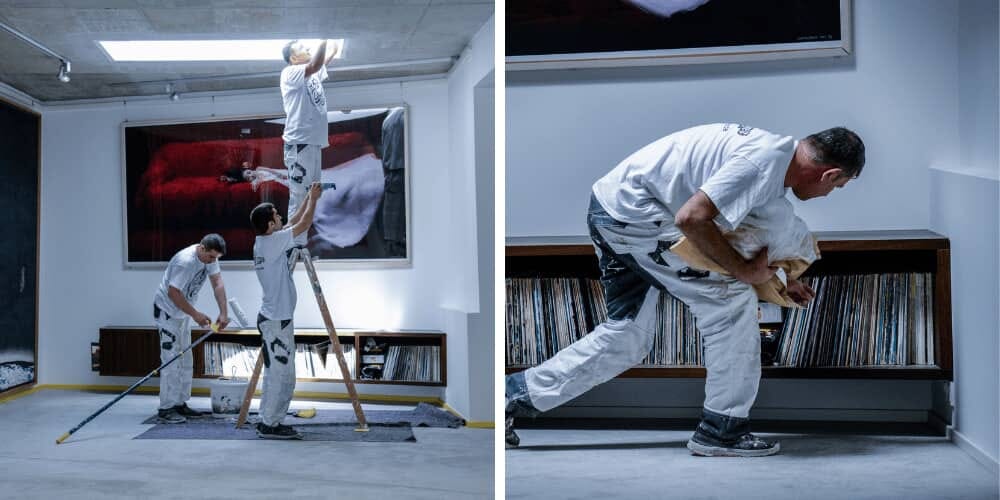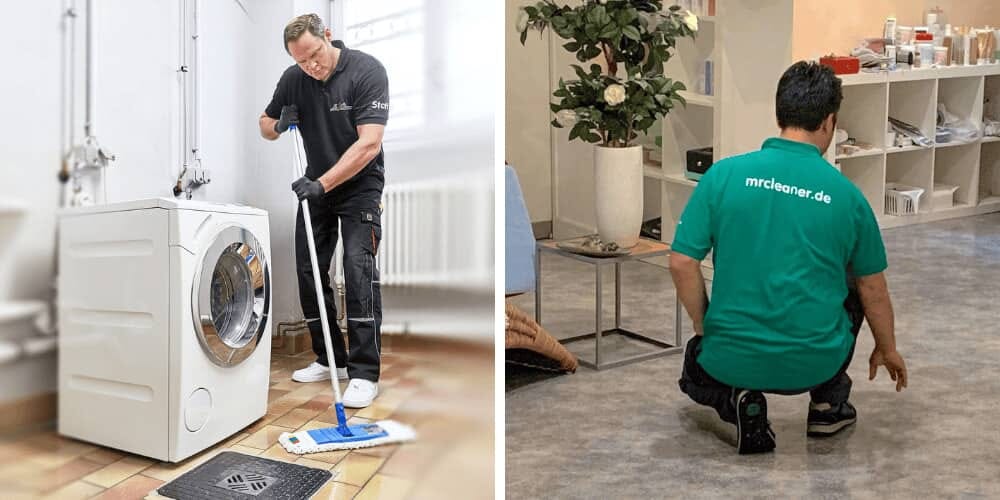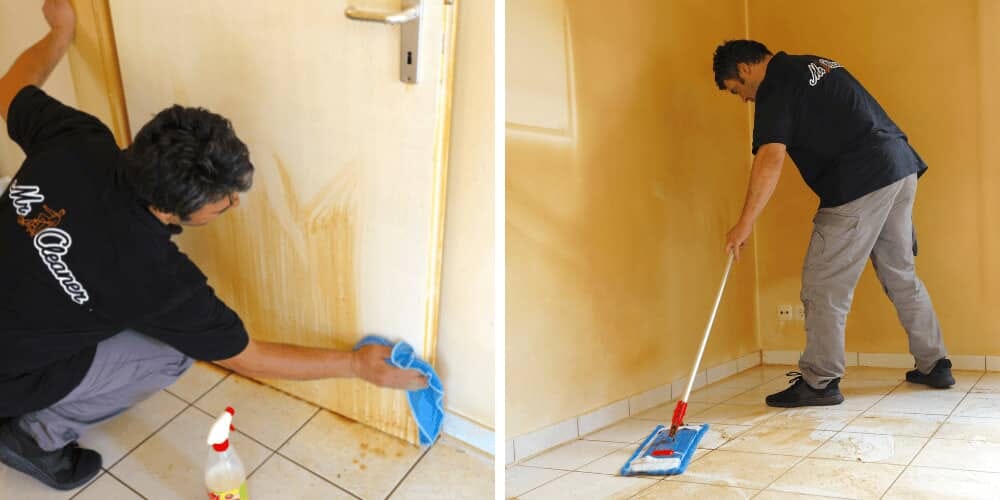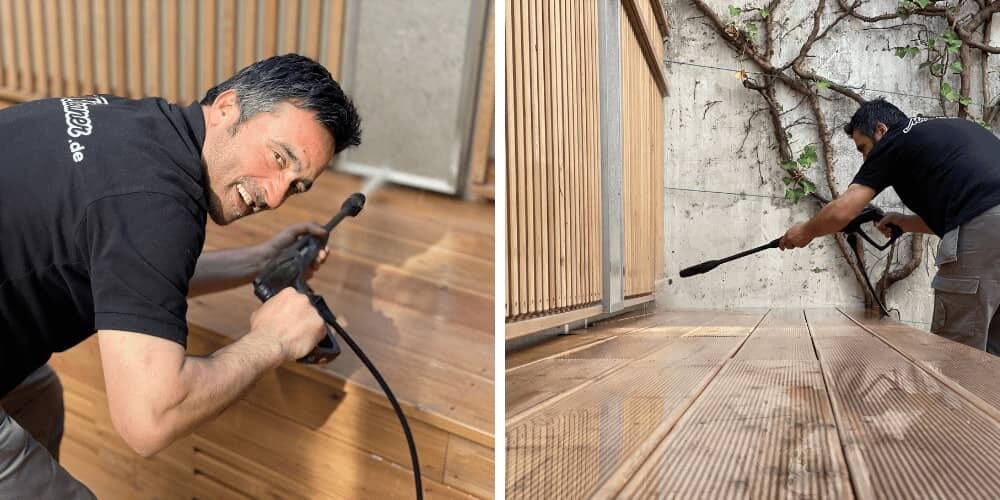 What services are included in household cleaning, window cleaning, upholstery cleaning and carpet cleaning?
The range of services for household cleaning, window cleaning, upholstery cleaning and carpet cleaning is very extensive. We recommend that you visit the respective areas on our website and read the service descriptions there.
We also recommend that you state explicitly in your request what is to be cleaned and to what extent. As a rule, there is nothing that we cannot or do not want to clean. It's all just a matter of coordination between you and our experts. That's why it's important that we have contact in advance and can make arrangements. (Siehe Blog: "Die Haushaltshilfe – Unterstützung in jeder Situation")
The following services are included:
a thorough cleaning of your entire household
Different booking options in relation to your desired date
a short-term appointment
no travel costs
a checklist for checking all cleaning work carried out
optimal hygiene standards for all cleaning work
transparent, comprehensible and fair accounts that list all activities carried out
a settlement of the invoice after the work has been carried out
Use the good price-performance ratio
Mr. Cleaner is a professional in the field of household cleaning. We offer you an excellent price-performance ratio that meets your wishes and requirements. We calculate precisely in order to be able to make you a fair price offer.
All billing methods are transparent and traceable. You can ask questions at any time beforehand, during the cleaning and afterwards. We will answer all your questions directly, seriously and in such a way that you can do something with the answer.
We work on hourly rates. Therefore, you can estimate in advance how high the costs for the cleaning will be. Experience helps us to give you exact dates and figures.
Since we do not work with advance payment, you will receive an invoice after the cleaning has been carried out, which you can take your time to look at and then pay. The settlement of the invoice is possible as usual by bank transfer. You don't have to have cash at home or pay the experts directly on site.
If you have any questions about our service, billing or Mr. Cleaner, we would be happy if you asked them. Use our contact form on the website, give us a call or ask our experts on site. We are always ready to create a tailor-made offer for you, so that we can not only offer you a service, but also make your everyday life easier.
Mr. Cleaner – your first point of contact for professional household cleaning
For professional cleaning work, Mr. Cleaner is your best and first point of contact. We clean households, windows, upholstery, carpets and much more. On our website you will find comprehensive information on all cleaning services offered.
If you have a special order and cannot find any relevant information on the website, please contact us anyway. We would be happy to clarify in a personal conversation how we can help you.
We look forward to impressing you with our services. Your team from Mr. Cleaner.